What is Dermizax™?
Everyone is different, every sport varies, every adventure seeker has unique requirements. One size does not fit all.
Dermizax™ is the original Japanese waterproof and breathable fabric technology from Toray and we use our decades of experience to manage every part of the construction process.
Not only that, we have teamed with a range of brand partners to create dependable clothing that is built for purpose. In collaboration with our experienced brand partners, we have created a game-changing fabric that has been constructed and thoroughly tested specifically for certain outdoor sports. Whether it's the type of terrain, your environment or the intensity of your activity, Dermizax™ will help you take on anything.
Take it all on.
Waterproofness
To fully embrace their sport and truly take on nature, adventurers should be prepared for any eventuality. So we designed our fabric structure to prevent the weather from derailing your plans.
Our fabric prevents rain droplets from penetrating the material, meaning you'll stay dry in even the most incessant downpours, whether you're cresting the peak of a mountain on a 100km trail run or carving through the powder during a day of off-piste snowboarding.
Thanks to a waterproof rating of 20,000mm – which means the fabric remains waterproof under the most testing of storm conditions – you can remain assured that no raindrops will work their way through the fabric. However much precipitation falls, you can take it all on with Dermizax™.
Breathability
Breathable fabrics are key to every kind of adventurer achieving their goals. For many, retaining body heat is as important as your level of fitness or taking onboard the right nutrition. Lose too much heat and your body temperature plummets, making it impossible for you to continue.
Dermizax™ fabrics are designed to allow moisture vapour to escape through the material while retaining your body heat. If you are taking things steady and working at an even pace, the fabric will retain heat while allowing humidity to escape, so that your body temperature remains at a comfortable level.
Customisable yarn
We work with our partners to design and test fabrics that are constructed specifically for each individual sport. Whatever the terrain, environment or intensity of your activity, you can be confident that you can take it on with Dermizax™.
There is a wide range of customisation available to users. Toray can tailor fabrics and yarns to suit every type of user and every type of sport. Levels of waterproofness and breathability can be altered depending on the exact specifications you require.
Different fabrics can be combined, various yarn treatments utilised and types of construction can be tailored to each individual's requirements. This includes the amount of stretch, the soft handfeel, the fabric's durability, the 'quietness' of the material, whether it's shiny or matte, and diverse fabric constructions such as twill or herringbone.
Breathability Comparison
Dermizax™ is available in three different membranes: Dermizax™ is the original waterproof breathable fabric and it's ideal for a range of sports. Dermizax™ EV is built for action sports including hiking and mountain climbing due to its higher moisture permeability, meaning more perspiration vapour can work its way out of the fabric as your heat rises when you work harder. Built for action sports in extreme conditions, Dermizax™ NX provides the ultimate in waterproof protection and breathability.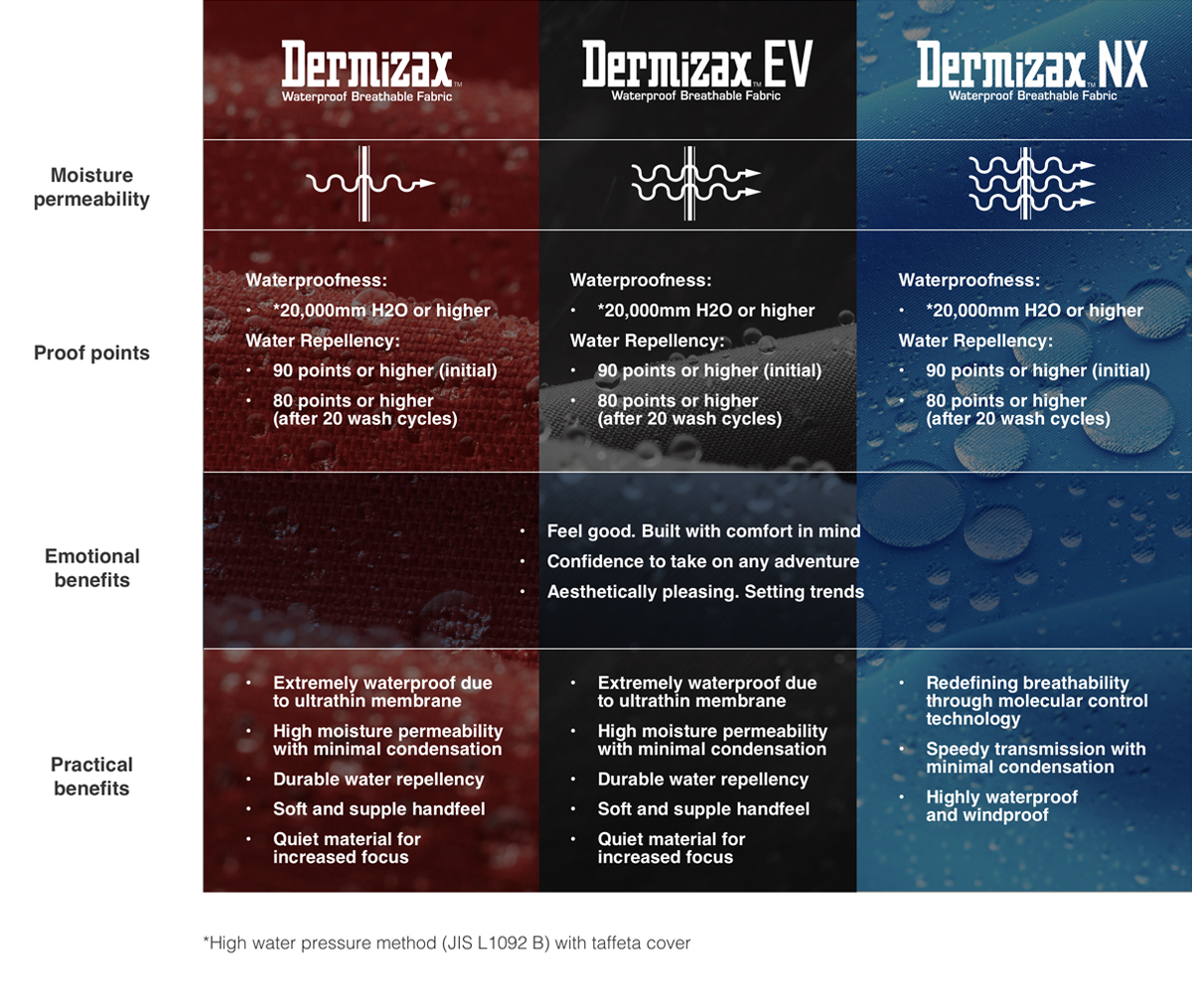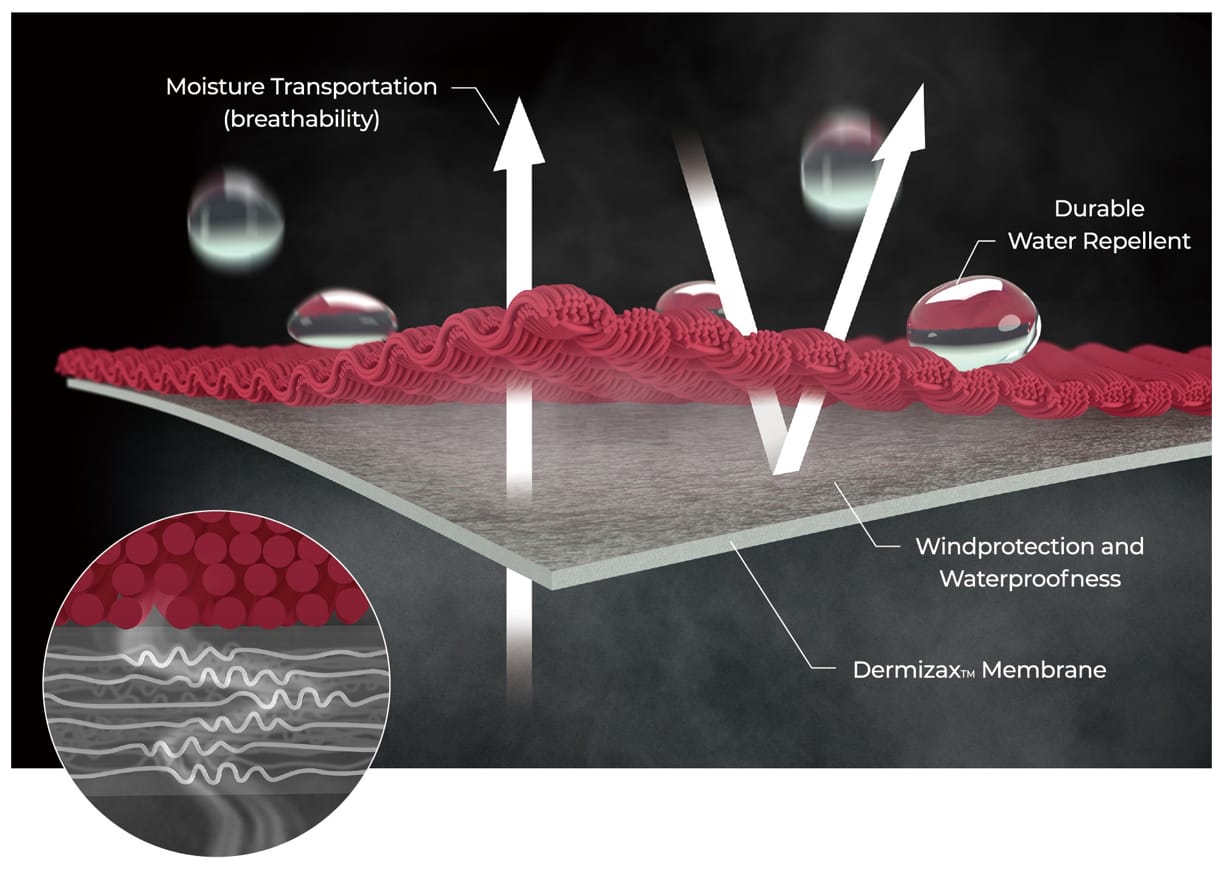 Hydrophobic and hydrophilic molecules are combined in the membrane so that hydrophilic molecules with a strong affinity to water transport moisture to the outside.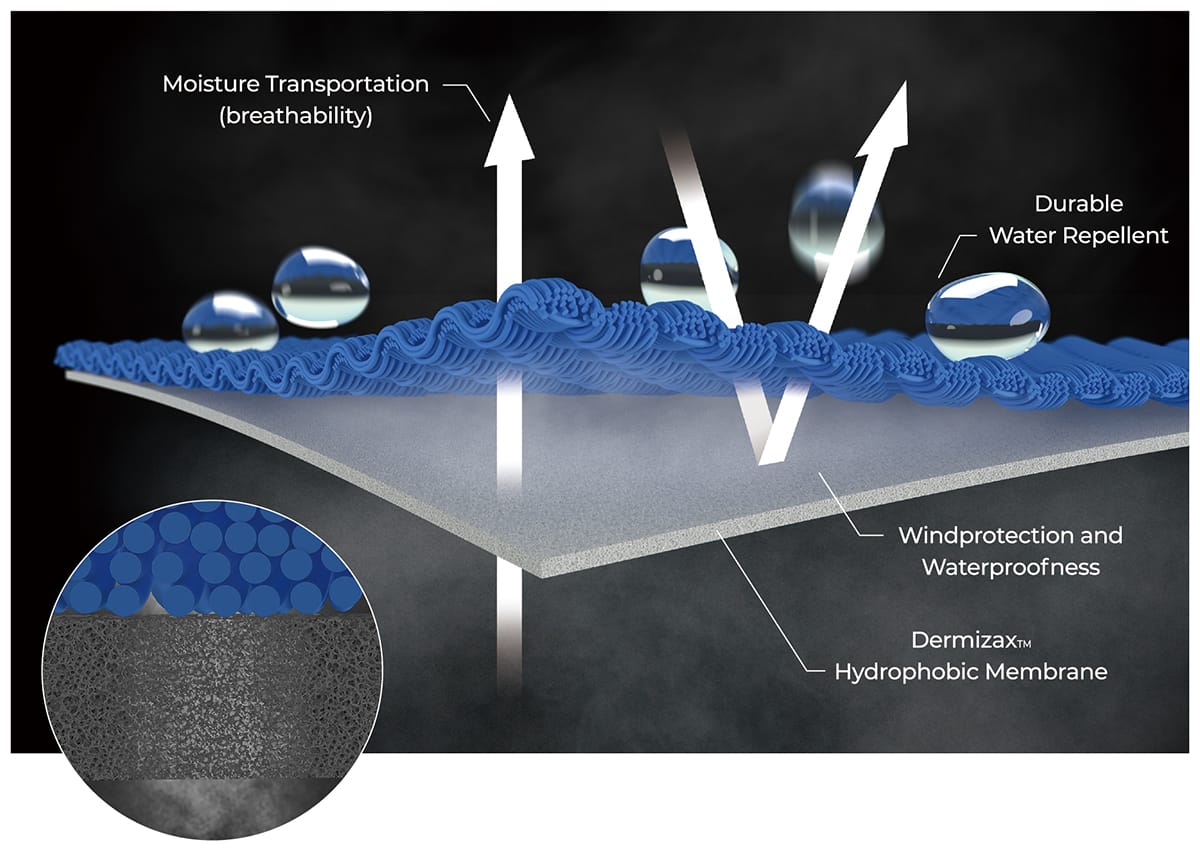 Microporous structure in the hydrophobic membrane makes moisture run through the membrane inside to outside.